Create and send

certificates, diplomas and other documents
Open App
Especially for those who hold olimpiads, competitions, training courses and in general for any organization. Quick creation and distribution of files with recipients' personal data.
Easy editor, quick creation, lots of integration possibilities.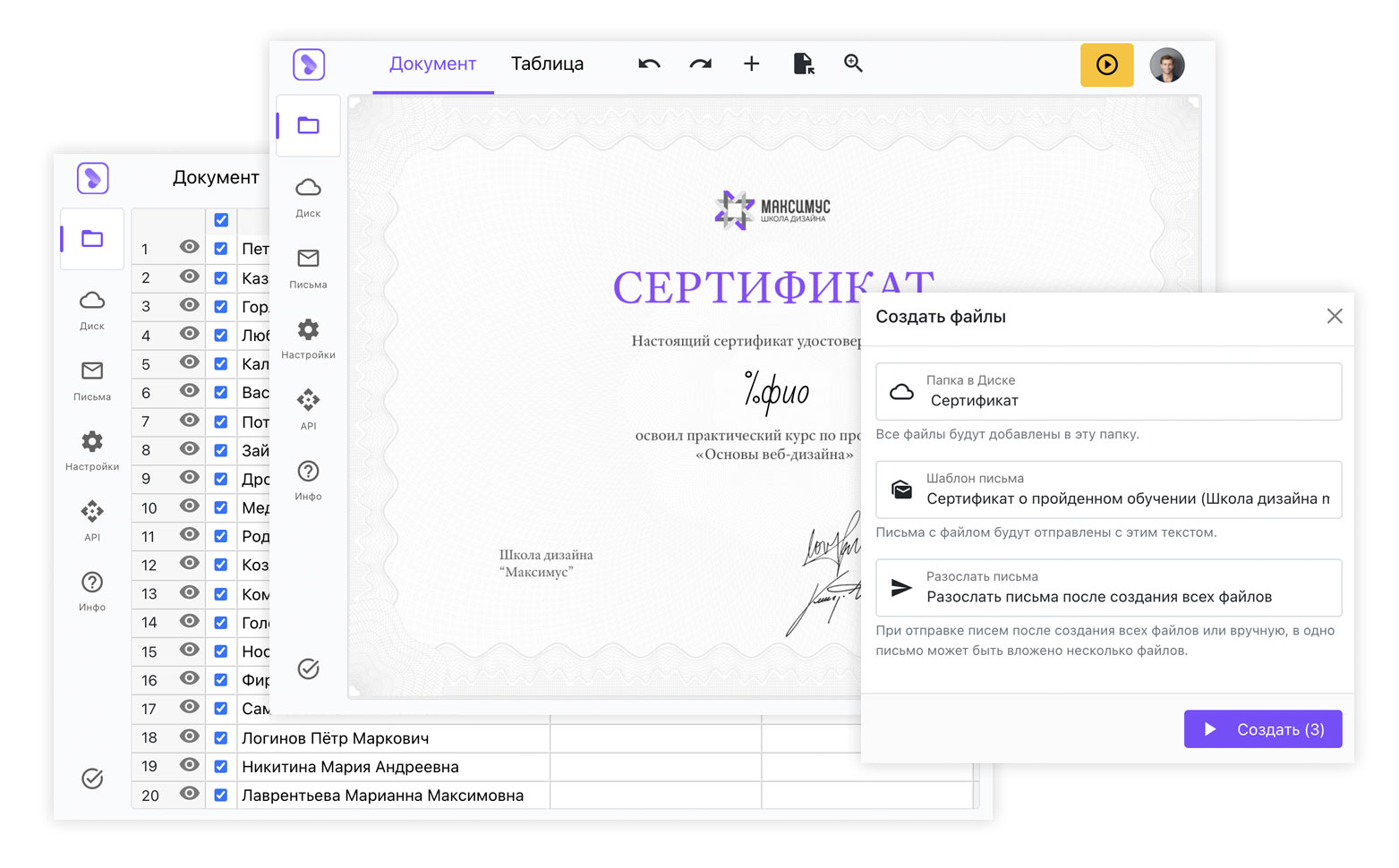 Easy-to-use editor
A simple and clear text editor. Text is placed inside a block, which can be sized and placed in the desired location.

Block editor
Format the text as you want and add variables to substitute personal data.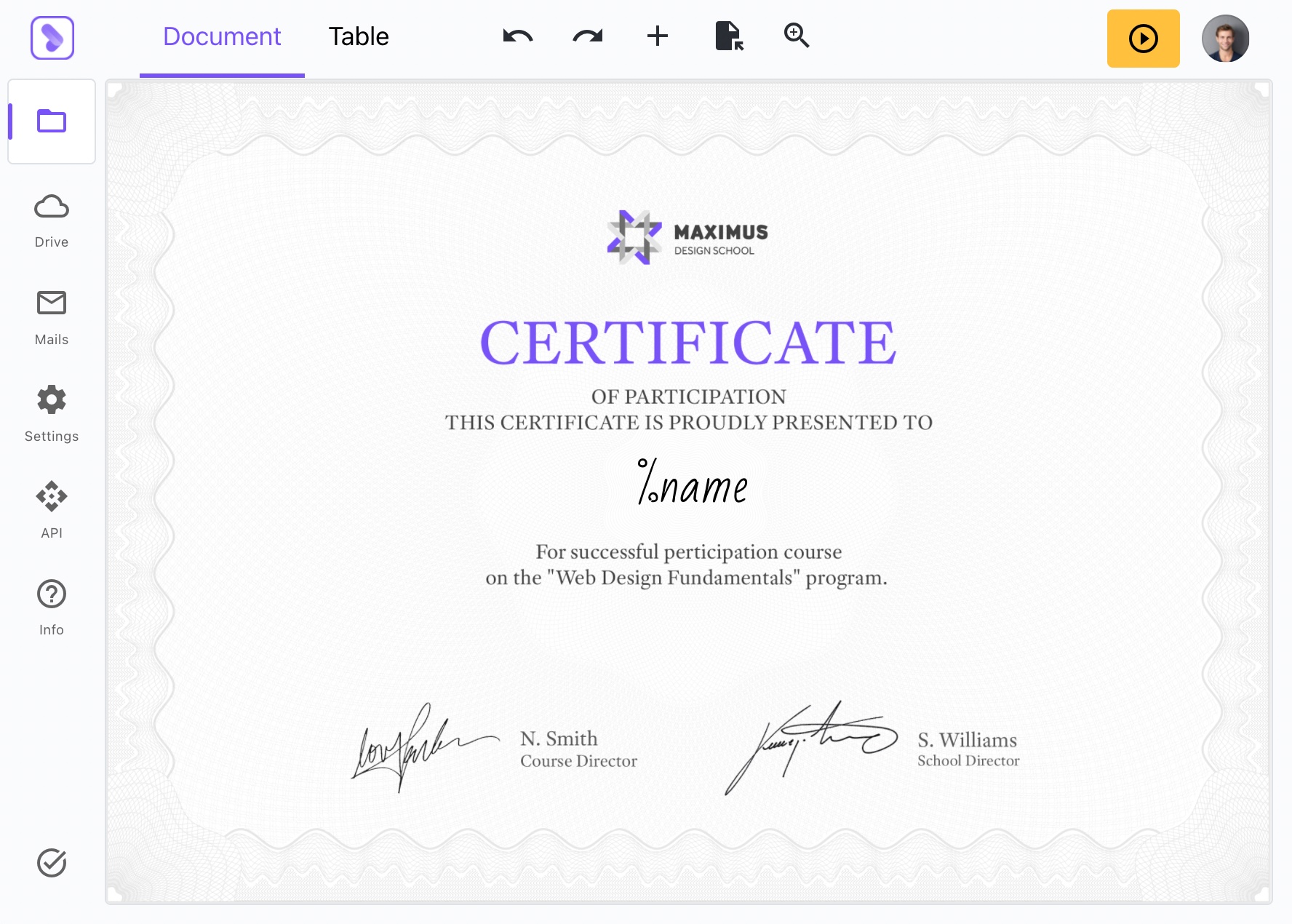 
Background
Upload your document background in JPG, PNG, PDF, TIFF or PSD format. The recommended format is at least 300 DPI.

Fonts
Use more than three hundred preset fonts, or upload your own.

Sheet size
Choose the ISO standard A4 or A5 sheet size, or use your own, no size limitations.
Spreadsheet application
A simple spreadsheet application to fill in.

Table with data
Fill a table with data to substitute in document variables. Each variable from the document is a separate column. On each line is data for a separate file.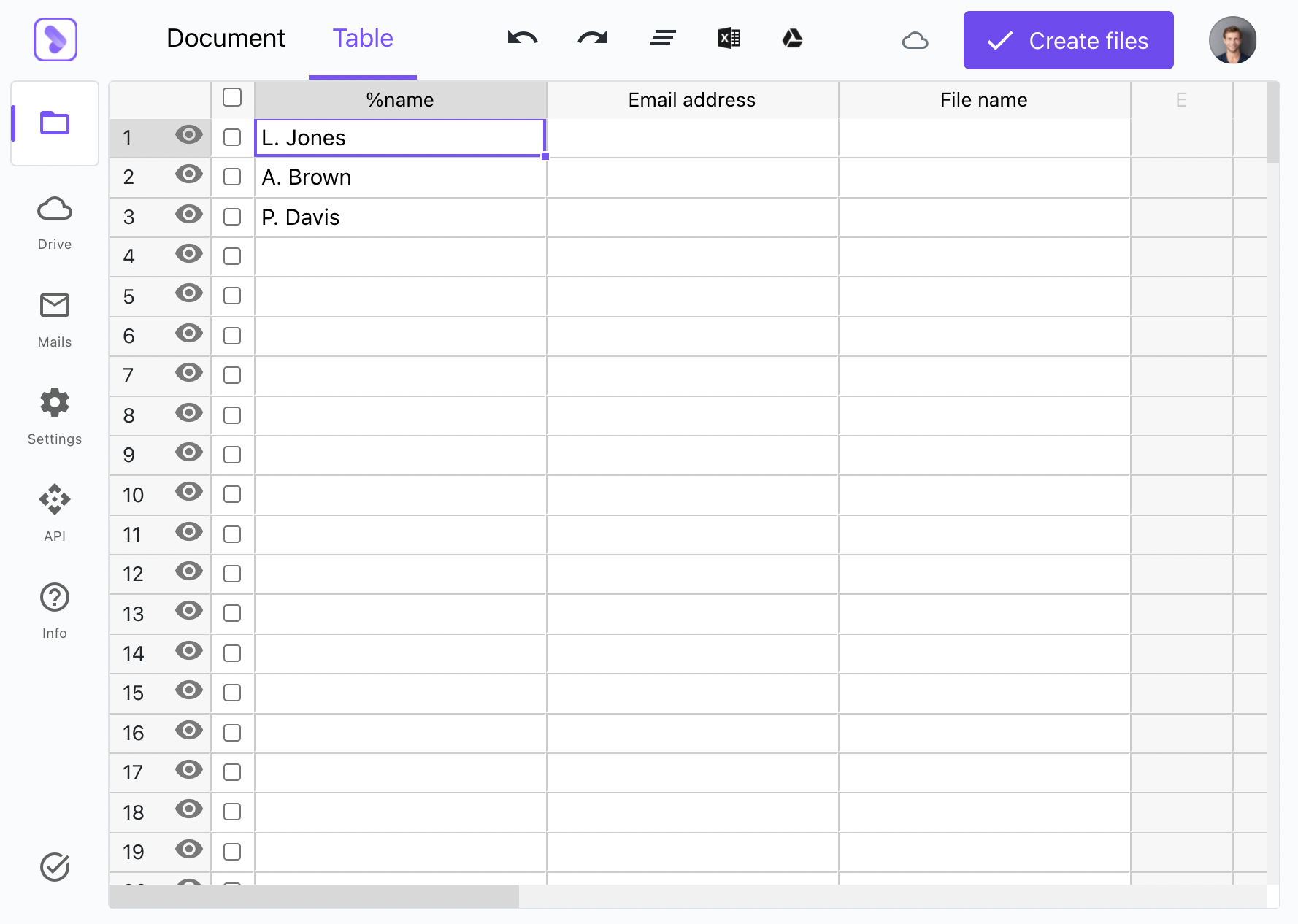 
Email
Each file can be sent to a specified email address.

File name
Specify the name of the ready file for further convenient work with the files, after uploading them to your device.

Cut and move
Automatically move and cut off text in all rows for the document layout you want.

Uploading the data
Copy a table from your spreadsheet application, upload a CSV, XLS, XLSX file, or data from Google Sheets.

Preview
Before you create files, check how the finished file will look with data from any line.
File creation
During file creation, the web application and browser can be closed.
File preparation is performed on the server.

PDF or JPG
Choose which format suits you best. The PDF file can be rasterized or with the text separate from the background.

Print quality
All files are prepared in 300 DPI print quality. This is the recommended typographic quality.

Text blurring
Adjust the slight blurring of the text so that the superimposed text looks exactly like the text in the background file.

12000 files per hour
Files are created at a rate of 12,000 files per hour. Any number of files can be created at one time.

Archive download
Download all files in a single archive or multi-page PDF after they have been prepared.
File distribution
If necessary, the files will be sent out by email.
Forms for your site
Add functionality to your site by installing the forms you need.
Simply paste the HTML code in the desired location on the site.
Integration
Automatically create or provide access to files.
Authenticity label
Add an authentication label to each file. The QR code in the label contains a unique link that leads to a special page on your site.
The person who sees your certificate will be able to scan the QR code, go to your site and see information about the certificate, for example to whom it was issued.